Yarns & Fibres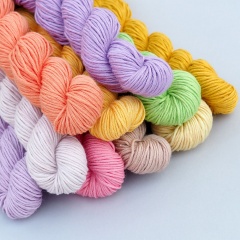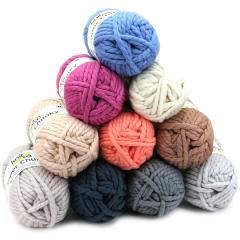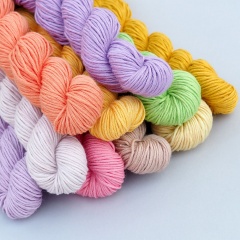 Bamboo fiber is considered to be antibacterial and has ultra-violet protective properties, so your knits will help you and your family stay healthy. Because bamboo yarn is breathable and absorbs up to 60% more water than cotton, it's a perfect choice for summer knits. Garments made from bamboo yarn have soft texture, silky luster and beautiful drape.
Content: 100% Bamboo
Weight: DK (3 – Light)
Hank: 50g / 1.7oz – 95m / 104 yds
Knitting Gauge: 23 stitches x 28 rows = 10 x 10 cm (4 x 4 inches)
Recommended Needle Size: 4 mm (US size 6)
Crochet Gauge: 17 stitches x 19 rows = 10 x 10 cm (4 x 4 inches)
Recommended Hook Size: 5 mm (H-8)
Care instructions: Hand wash or delicate machine wash / Air Dry / Do not bleach / Iron at low temperature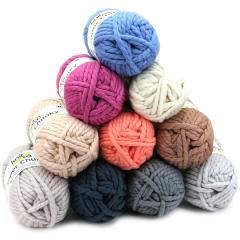 100% Merino wool
Super Chunky yarn felts just enough to give your knitted creation a look of coziness, with stitches almost invisible, and is good for both wet felting and needle felting projects. After felting in a washing machine at high temperature Super Chunky yarn shrinks by approximately 28%. Make a swatch and felt it before starting an actual project.
Weight: Super Bulky
Ball: 100g / 3.5oz – 40m / 44yds
Care instructions: Hand wash / Dry Flat / Do not bleach / Do not iron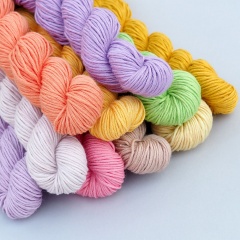 Bamboo fiber is considered to be antibacterial and has ultra-violet protective properties, so your knits will help you and your family stay healthy. Because bamboo yarn is breathable and absorbs up to 60% more water than cotton, it'
Read More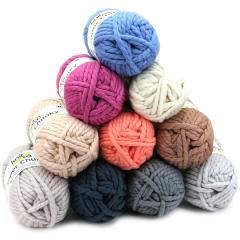 100% Merino wool Super Chunky yarn felts just enough to give your knitted creation a look of coziness, with stitches almost invisible, and is good for both wet felting and needle felting projects. After felting in a washing machine at high
Read More